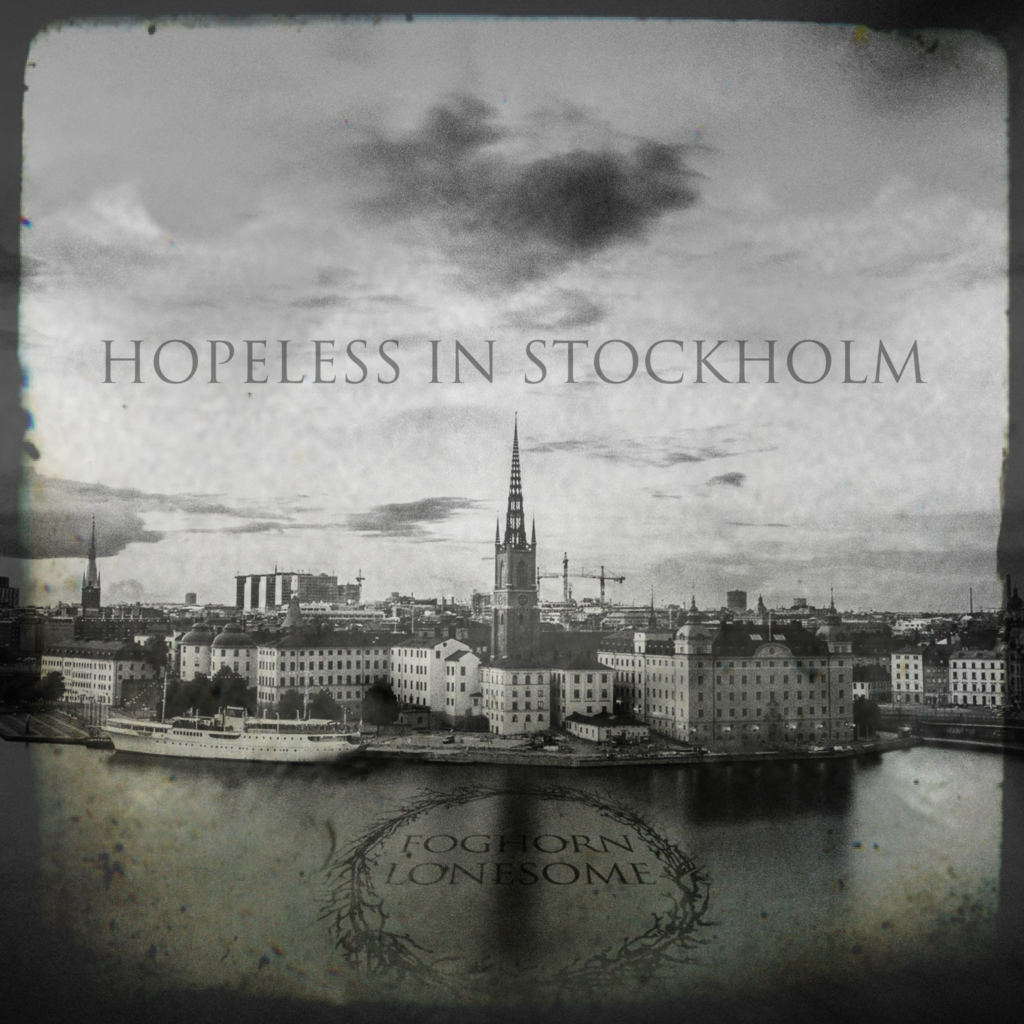 Single released February 24, 2019.
Available on all major streaming services.
All rights reserved.
Music, lyrics, instruments, programming, lead vocals by Eric Sparkwood. Backing vocals by Jessica Isaksson, Tomas Rosenberg. Produced by Tomas Rosenberg, Eric Sparkwood. Artwork by Aki Aro, Eric Sparkwood. Foghorn Lonesome logo in artwork originally designed by Bo Reinerdahl.
Nu du, nu är det nog
Jag har så ont
Byggde ett luftslott
Hade ingen trott
Allt blåstes bort
Mina ögon är svarta
Ryker av svavel
Mitt förbannade hjärta
Nu blöder vi svärta
I drag my anchor through Stockholm
The weight of failure
Heavy on soul and bone
I've grown bitter
It's easy to do
My illness has spread and guess what
I blame it all on you
I counted on you to see me through
I called you my home
You let me down, Stockholm
My demons grin as I lose control
Love is poison
Eats you whole
My wound so deep
Kaleidoscopic abyss
I curse the things I dearly miss
My own shadow has betrayed me
Multilayered misery
Disastrous synergy
I counted on you to see me through
I called you my home
You let me down, Stockholm
Jag söker en ro
Finns den måntro?
Vilse i dimman
Åren gått
Skägget grått
Och jag tänker på tiden i Ekensberg med kompisgänget och jag var så kär
Allt gick utför efter sketna Rödaberg
Och jag tänker på tiden i Alphyddan
Jag förde oss samman, tajt som fan
Vart tog dom vägen efter Karlavägen?
If you feel worthless then you probably are
(Ha-ha-ha-ha)
No one will love you for who you are
(Ha-ha-ha-ha)
Jag står på Skanstullsbron med spöken i led
Ett steg fram så kommer ni att se
Ångest ångar från hjärtesorg
Vid högtider en tom inkorg
Bestulen på tid
Kött och blod
Hopp och drömmar
Detta kräver mod
Råder bara snack
Få förblir en vän
Sviken om och om igen
Och jag tänker på Svea och tiden i Tumba
Känner mig hemma i det förflutna
Jag vill ha tillbaka min Amiga 500
Å jag fick landa i en famn
Jag hade en kärlek
Ja, titta jag kan
Men som allt annat hon försvann
You'll never be good enough
No, you'll never be good enough
Don't ever think you're good enough for anyone or anything
Hello, can anyone hear me?
I'm lost in the dark with the wreckage that is my heart
My compass is spinning
My fears are winning
I'm at war within
I blame you for everything
Swedish lyrics translated here.