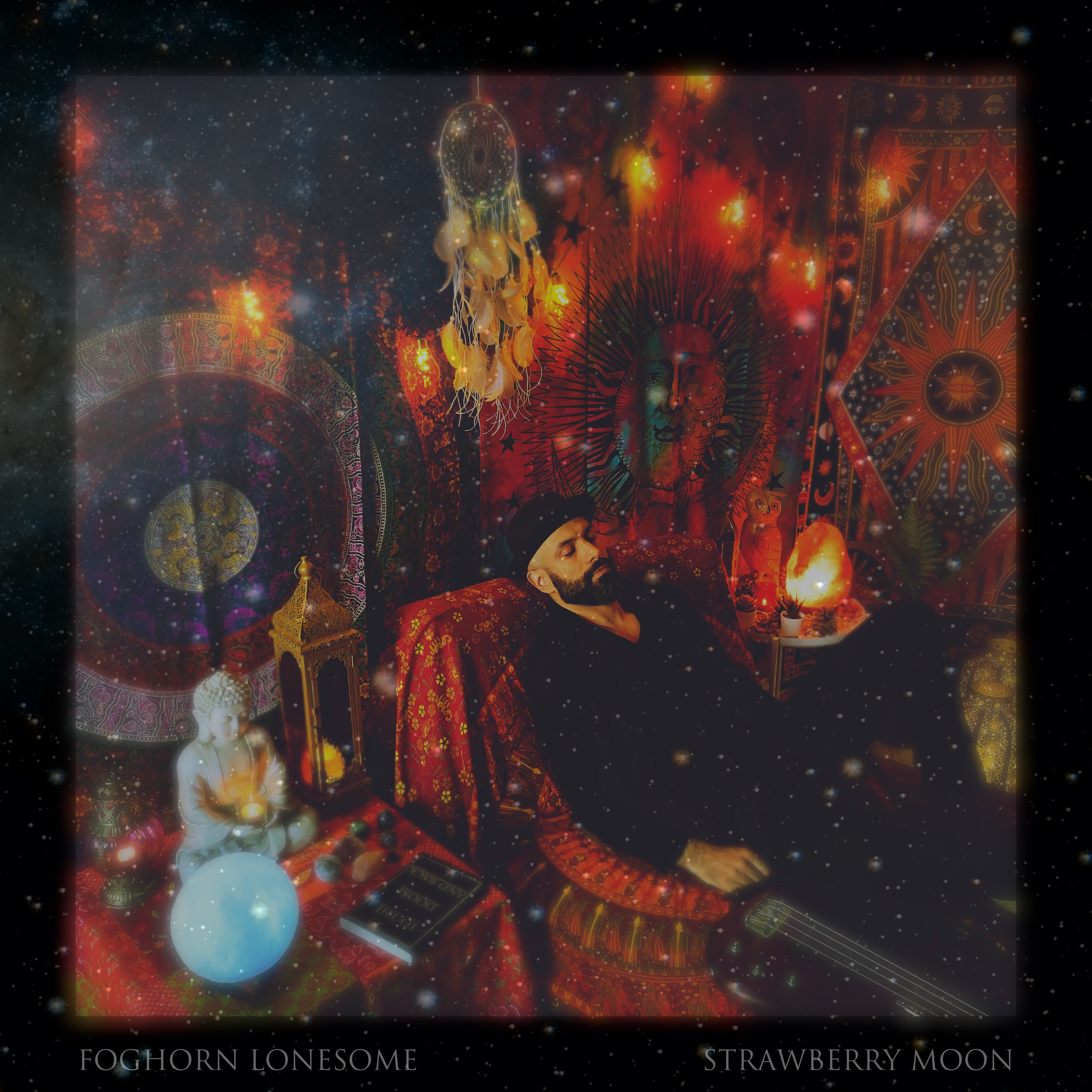 (Click artwork for original hi-res version. May take a few seconds to fully load.)
Single released July 11, 2020.
Available on all major streaming services.
All rights reserved.
Music, lyrics, instruments, programming, vocals by Eric Sparkwood. Produced by Tomas Rosenberg, Eric Sparkwood. Artwork by Eric Sparkwood, Toni Thörnqvist.
She felt like dripping honey in my arms that night in June when our galaxies collided perfectly under the strawberry moon that colored the sky like an endless canvas in a million red hues. We had our own constellations, cordate and runic, that twinkled just for us and it felt like no force could ever part us. Two longing souls finding refuge in each other's embrace and like magic our hearts beat in sync and all inner and interstellar frequencies had aligned as one in a low omnipresent vibration.
There was a smell of lavender in the cool summer air and her gentle eyes sparkled with rainbow wonder that drew me in so soothingly into a safe harbor I had never felt before. I whispered things in ear no one else will ever hear. Words from a place few have known. We surrendered everything. Fears, scars laid bare. Nothing held back as we descended together into a warm abyss of deep affirmation. She had woken my heart from a long slumber and now it was roaring with love like lava… all-consuming and unstoppable. Every kiss, every caress, every touch, breath, moment and the spiritual intimacy we shared felt like cursive poetry… simply heavenly.
But cold and cruel is the universe with its deceiving stardust and cosmic sway. A sudden shift in balance when our blood diamond in full bloom began to phase away into the wild black yonder. Frequencies interrupted and constellations reset by an unknown disturbance in the cosmos that was felt through every cell as it invaded our space in which our astral and souluar symbiosis was pulsating. Beethoven's sonata and a static noise reverberated across the Milky Way like ripples of the saddest energy. A soft wind blew over us and in my arms she instantly turned into a ghostly shimmer that flickered like a broken signal and within seconds she was gone. An amber wisp of her essence drifted up towards the fading moon as if it had called for her, leaving behind particles of peridot and tourmaline that glittered like snow in the last lunar rays. My heart pulverized as she was so quickly taken from me. A complete reversal of time and space as if things never were. My cries echoed unanswered in a silent night that felt like a grave of fulfilled wishes that came untrue.
But no words are enough for my pain and yearning, my infinite love and the depths of my sorrow. Now her spell lingers as I'm haunted by the emptiness between the stars. I look for her every night but she's in someone else's sky now, majestic and bright. My luna fortuna, my goddess of light, now my darkness and kryptonite. I now know that some things only exist in the moonlight.